Wines
Summer Porch Wines
Luccarelli 2015 Negroamaro IGT ($15.95)
was the Top 50's most popular wine. This classic Puglia negroamaro is an almost opaque purple with a sweet fruit entry and well-balanced palate. Savor the plush aromas of sweet dark cherries, plum cake, rich mocha chocolate, baking spices and a pinch of pepper. Concentrated dark fruit rolls into pipe tobacco, chocolate, cedar and spice that lingers.
Grati 2011 Villa di Vetrice Riserva ($18.50)
balances smoothness with snappy acidity. This Riserva is made only in outstanding vintages. The wine is soft, elegant and medium/full bodied with notes of dark red cherries, raisins, licorice, smoke and spice.
Walnut City Wine Works 2015 OPN ($18.95)
is simply enchanting! On the nose are expressive aromatics of pomegranate, strawberry, and a bit of dried rose petal. The palette shows fruit (mostly cherry) with black tea, cola and earth. Nice smooth finish, with notes of cherry pepper.
Château de Lancyre 2016 Pic St Loup Rosé ($26.00)
a substantial rosé of 50% syrah, 40% grenache, 10% cinsault. Sourced in Pic Saint-Loup, the Languedoc's best wine district, it shows raspberry and pear aromas on the nose, with distinctive spicy, minty garrigue notes. Firm on the palate, ending with a long, clean finish. Too bold for summer only, it's a rosé for year-round drinking!
Smoke Tree 2015 Chardonnay, Sonoma Coast ($21.00)
is fresh and balanced, with aromas of Asian pear, Meyer lemon and white nectarine. The palate is vibrant with flavors of Golden Delicious apple and apricot, light floral notes and just a bit of wood. The finish is crisp and long.
Highflyer 2011 Centerline ($22.00)
is remarkably distinctive, complex, balanced and compelling. It's a juicy, hedonistic proprietary red blend of syrah (43%), merlot (18%), sangiovese (11%), petite sirah (9%), cabernet franc (7%), petit verdot (5%), grenache (4%) and malbec (3%). The aromas are ripe with black cherry and chocolate, and spicy notes leap out of the glass. The palate is full and rich with a touch of lush tannins, fresh berries and rounded out by good acidity and integrated oak. Just 4,300 cases produced.
Wines to Watch
Domaine De La Tourade 2015 Gigondas
$29.00 (case price $26.10)
Ruby color, with meat, earth and bright fruit on the nose. Blend is 80 % grenache, 10% syrah, 10% mourvèdre. Well-structured with dark fruit notes on the palate; the tannins are very round and velvety. Finish is savory and super dry. Big wine, well balanced. Wine to keep 3-10 years. Not unlike its more expensive cousin, Châteauneuf-du-Pape but at a much more affordable price.
Smoke Tree 2015 Pinot Noir, Sonoma Coast
$24.00 (case price $21.60)
Small nose with has tones of black cherry, plum and cola with hints of allspice and earthy rusticity on the attack. The berry/cherry palate is silky and well-framed with a clean finish. It is true to the varietal, savory and refined. For a more creative pairing, consider richly spiced barbecue or a charcuterie and cheese plate. For a vegetarian option, the winemaker recommends falafel -- a personal favorite!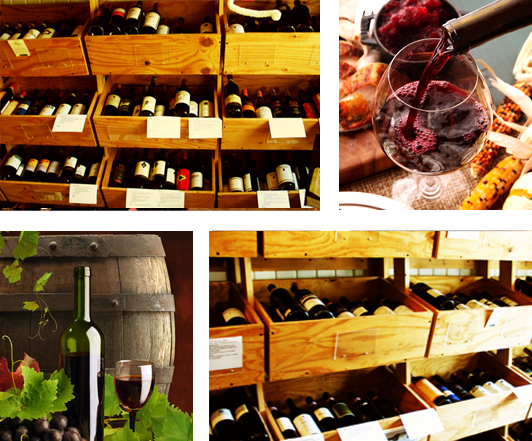 Cave de Tain 2015 Première Note Syrah
$16.95 (case price $15.25)
100% syrah. Yields are limited by Cave de Tain IGP-Vin de Pays growers benefit from a special "maturity monitoring" program in order to reach optimal fruit ripeness. All grapes are destemmed. The fruit undergoes cold maceration before fermentation to enhance the fruit character. Vatting in stainless steel tanks for approx. 10 days. Gentle extraction to favor soft tannins. Deep purple with an intense bouquet of red fruits melded with spices, a hallmark of the Syrah varietal. Round and supple, but not jammy, dominated by notes of raspberry and black currant, with a touch of pepper. Perfect by the glass with snacks, meats "a la plancha", cold meat. Also, Mediterranean cuisine or a cheese platter.
Location
16409B Red Arrow Hwy
Union Pier, Michigan

269/469-7566 Phone

jacqui@thewinesellersmichigan.com
Closed February, March & April