Wines
Fireside Wines
Mark Ryan Winery ($23.00)
BTR Cellars – 2014 The Vincent
100% chardonnay from Washington State. Aromatically, this wine offers spiced pear and traces of pineapple before giving way to a palate featuring green apple and ripe citrus. The mouthfeel is relatively full, with more rich apple and stone-fruit tones. The wine's finish is balanced by its acidity, which is round, buoyant and mouthwatering. Production notes: This chardonnay was fermented in 100% stainless steel, for a period of 3 months at very low temperatures. Slow, cooler fermentations tend to retain more of the subtle aromatics of this complex varietal. The wine was not put through malolactic fermentation in order to retain all the wine's natural acidity to balance the full-bodied mouthfeel.
Patient Cottat 2012 Pinot Noir Le Grand Caillou ($18.00)
100% pinot noir from a well-known Loire Valley producer. This is an elegant and round wine at an unbelievable price! It has a nice bright and clear color, showing notes of earth, raspberries, blackcurrant, limestone and spices. The fruit sourcing: 50% from the Loire Valley and 50% from Burgundy. Genius!
Chamonix 2013 Rouge ($21.00)
Blend is 35% cabernet sauvignon, 34% merlot, 11% Malbec, and 20% petite verdot. The generous bouquet suggests blackcurrant, cedar with scents reminiscent of red berries, spices and vanilla. Amply structured, full, round and smooth on the palate with rich fruit and dried herbs. After malolactic fermentation, the wine spent 18 months in used French oak. The longer finish has just a wee bit of cracked pepper. Franschoek, South Africa
Tenet Wines 2014 The Pundit ($26.00)
Impactful Northern Rhône interpretation. Blend is 88% syrah, 6% grenache, 4% mourvèdre, 2% Viognier (co-fermented with Syrah) and aged 13 months in oak, 12% new. The assembly of the final blend was a true collaboration of winemakers Bob Bertheau, Michel Gassier and Philippe Cambie, combining their decades of experience to produce a wine that demonstrates why Washington State is one of the best growing regions in the world for Syrah. The wine is deep purple, inky, saturated with a ton of character. Ripe cherry and plum aromas are complemented by earthy undercurrents of smoky cocoa and cola, and highlighted by traces of citrus blossom and lemon. A very smooth mouthfeel glides into a long silky finish with flavors of red cherry and blackberry, hints of toasted vanilla, and a tantalizing slate element. Definite WOW factor!!
Cantine Lenotti 2014 Bardolino Classico ($14.99)
Medium weight wine, quite dry with good cherry fruit and a bit of spice. Very traditional blend of mostly corvina and rondinella with 10% other indigenous grapes. Just the faintest hint of tannin and a nice dry finish. Great with pizza, pasta or nothing at all! Drinks almost too easily ~ can easily take a bit of a chill Veneto region, Italy.
Ghostrider Ungrafted Red 2015 ($15.95)
This is a bold and spicy blend of cabernet sauvignon, petite sirah, syrah and zinfandel. Displays earthy notes, along with tanned leather, and cedar box too. There is a blast of bright red fruit, mingling with blackberries and charming spice all the way. Great case buy! From Lodi, California.
Wines to Watch
Long Shadows 2014 Poet's Leap Riesling
$24.50 (case price $22.05)
Think you don't like riesling? Guess again! This one is inspired by the great wines of Germany and crafted by Armin Diel, proprietor of the renowned Schlossgut Diel. A really special wine showing key lime and fresh citrus peel aromas and a very faint whiff of petrol give way to vivid layers of white peach and stone fruit flavors accented by a pleasant touch of minerality and lime pith. Delicious natural acidity and just a hint of residual sugar provide a balanced, vibrant mouth-feel and lengthy finish. Because the 2014 Columbia Valley growing season was the warmest on record, growers took extra care in the vineyard to make sure Riesling grapes arrived at the winery brimming with fresh, bright character. Each canopy interior was hand-pruned, carefully trimmed to protect the clusters from too much sun exposure while allowing for uniform ripening. Warm temperatures in the fall hastened ripening; the Columbia Valley's trademark cool autumn evenings helped preserve the grapes' natural acidity. Washington State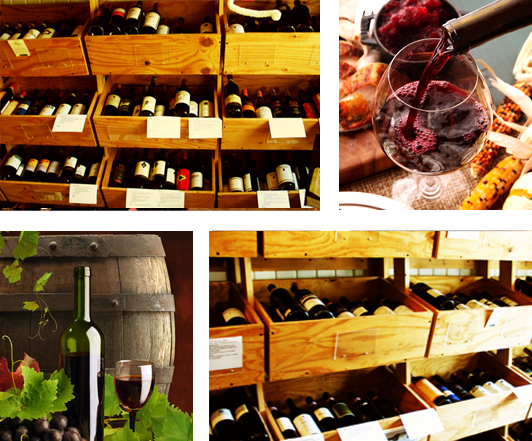 Drouhin 2014 Roserock Oregon
$39.50 (case price $35.55)
Domaine Drouhin's newest Oregon project grown in ancient volcanic soils, an ideal elevation range and has the unique cooling effect of the Van Duzer corridor. The result produces a classic cool-climate Pinot Noir. Roserock is LIVE-certified sustainable. This pinot noir has a lovely, deep red color and a nose that is floral, spicy and beautiful, with an intense, savory, character. On palate, notes of dark berry preserves, a touch of caramel, black cherry, dried flowers, and tilled earth. The wine displays clear structure and balance, with good mouth weight and a superb long finish. Drink now through 2028. From Willamette Valley, Oregon
Daou 2014 The Pessimist
$34.00 (case price $30.60)
The Pessimist" is the Daou brothers' answer to "The Prisoner," a big, inky, fleshy, blackberry-liqueur scented red for hedonists, comprised of 52% syrah, 26% zinfandel, 18% petite sirah, 3% tannat and a little bit of grenache. 50% new oak helps round out this wine's impressive texture and complexity. Prepare to have your olfactories rocked like the proverbial tropical gale! It is a very dark wine that offers gorgeous crème de cassis, black cherry, boysenberries, and toasted vanilla beans accompanied with sweet tannins and purity of fruit. Firm, yet elegant tannins balance the powerhouse of fruit and lead to a strong, lasting finish of black pepper, pipe tobacco, and spicy oak. Outrageous!
Location
16409B Red Arrow Hwy
Union Pier, Michigan

269/469-7566 Phone

jacqui@thewinesellersmichigan.com
Closed February, March & April