Fireside Wines: The Winter Forecast
Our predictions for winter always come true. This season, we forecast cold fronts replaced by warm smiles. Trees coated with snow and halls decked with holly. Singles, couples, friends and families enjoying the inviting warmth of fireplaces… and Fireside Wines. Our Fireside selections are chosen for their bold heartiness that warms body and spirit.
---
Delaire Graff Botmaskop 2017 ($42.00)
Powerful, plush yet polished wine From Stellenbosch. 65% cabernet sauvignon, 13% cabernet franc, 11% petit verdot, 8% merlot and 3% malbec. Introduced by classic aromas of dark berry fruit, spice and cassis, it is layered with a creamy texture and deep dark fruit flavors. The softness of tannins and balance in structure shines.
Tolaini 2018 Valdisanti ($41.50)
Captivating new cuvée of equal parts cabernet sauvignon and cabernet franc from the Chianti Classico zone. Aromas of youthful, rich, dark cherry/berry and cassis meld with notable French oak spice. Palate is full-bodied and lush with deep but reserved fruit flavors echoing nose. Excellent balance of fruit intensity with fine tannins. A cellar-worthy wine.
Haut de Poujeaux Haut Médoc 2015 ($32.50)
55% merlot, 45% cabernet sauvignon. A generous, elegant wine, with class and finesse. Earthy notes, dark berries, lead pencil, dry, integrated tannins. A fine example of modern, well-vinified Médoc wine.
2Ponzi Pinot Gris 2018 ($23.50)
Juicy, textured wine starts with an amazing nose of melon, white peach, kaffir lime with spicy notes of cardamon, clove with pear blossom and candied orange. Wonderfully fresh palate defined by tangerine and kumquat acidity with apricot and green tea. Finishes long and silky, with white florals and a touch of pear nectar. From Willamette Valley, Oregon
Domaine Lafage - La Narassa 2018 ($18.95)
70% old-vine grenache, 30% syrah. Gorgeous bouquet of blueberries, kirsch liqueur, smoked game, violets and lavender. Dark, rich fruit, some spice, bold earthiness, nice tannins. Features a smoothness which rolls across the tongue so effortlessly, you'll find it hard to stop at just one or two glasses. Smooth, sumptuous, beautifully concentrated finish.
Wines to Watch
Beaumont Chenin Blanc 2020 ($24.50)
From Bot River, a vibrant example of the zesty white wines coming out of South Africa today. Nose has hints of lemon, honeysuckle and white peaches. Palate offers vivacious freshness, light body, intense stone fruit, citrus flavors and lively acidity.
Les Vignerons Du Mont-Ventoux Altitude 500 2018 ($16.95)
75% grenache, 25% syrah. Earthy, rustic nose mingles with red fruits. Medium body with hints of dark fruits and a touch of brown spice. Easily accessible entry of fruit richness with a leathery/tobacco accent. Long finish accented with cracked pepper. From one of the few cooperatives we represent.
Lumen 2017 Pinot Noir ($39.50)
We sold Lane Tanner's wines in the early days of The Wine Sellers, and she has come out of retirement to craft this delectable offering. Penetrating cranberry and sage on the nose. Flavors of dried strawberry, wild thyme and sandalwood on the palate, wrapped in a firm yet velvety texture. Long, vibrant finish with lingering fruit and minerality, accented by notes of cardamom, white pepper and anise.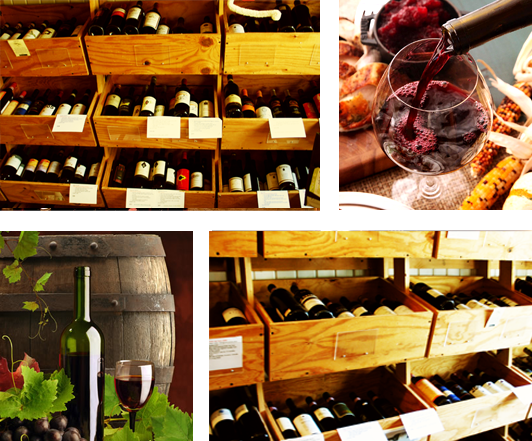 Location
16409B Red Arrow Hwy
Union Pier, Michigan

269/469-7566 Phone
jacqui@thewinesellersmichigan.com